Marockin' Brass présente un projet Gnawa Jazz déchainé avec le trompettiste Byron Wallen et le batteur Rod Youngs. L'album sortira en automne 2014.
La connexion entre les 'soundscapes' stratifies, les structures de question et réponse et la multitude de timbres acoustiques est d'une efficacité époustouflante. Le tout se produit organiquement, sur le climax du dialogue entre une section sublime de virtuoses jazz avec des maitres de Gnawa Marocains. Le langage d'improvisation est frappant. La section rythmique est impitoyable. Ce groupe propulse un groove profond et contamine le public avec une énergie pure. De façon généreuse et sans aucune modération...
"Byron is one of the most innovative, exciting and original trumpet players alive" (Jazzwise Magazine).
Widely recognized as a seminal figure in world jazz, he is constantly travelling the world recording, teaching and performing.
Why Wallen? Lors d'une première rencontre entre Luc Mishalle et Byron Wallen (Klinkende Munt, Bruxelles 2005), il était vite clair que les deux musiciens partageaient un intérêt particulier pour la musique gnaoua et plus précisément l'intégration de ce genre dans un contexte de jazz. Les rencontres suivantes révélaient des affinités additionnelles en ce qui concerne leur style scripturaire : des patrons rythmiques feutrés, des mélodies apparemment simples, des structures horizontalement enlacées et complexes au lieu des harmonies verticales, la fragmentation du matériel écrit etc.
en collaboration avec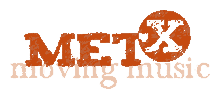 MET-X est un lieu accueillant pour les musiciens de tout horizon et de toute origine. Nous cherchons au plus profond des entrailles de la ville le filon des sons bruts que nous transformons en un son original et unique. Avec l'aide d'artistes enthousiastes, nous construisons des processus éducatifs et nous créons des bases musicales pour des groupes et pour des événements. Notre monde sonore correspond aux sonorités des métropoles. Parfois doux, parfois fort, beau, surprenant. En tous cas toujours excitant... Moving music, musique qui bouge.